What kind of game is Pegaxy?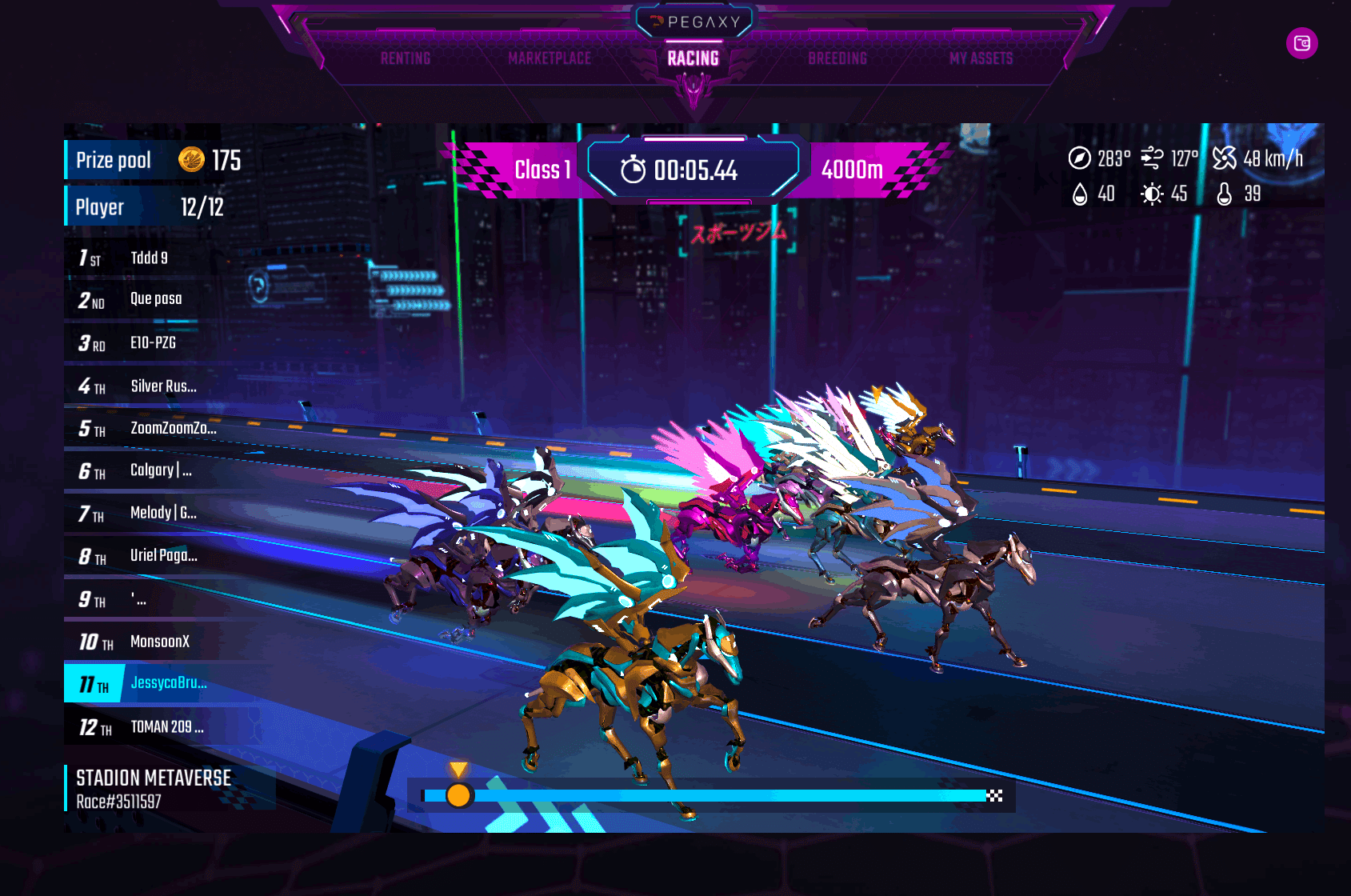 "Pegaxy" is a PvP style horse racing game in which 12 racers compete with each other within 3rd place.
Players are in the top three and earn money by earning the platform's utility token, VIS (Vigorus).
To get a racehorse (Pega) that you can actually run in the game, you need to buy it directly from the marketplace or rent it from the owner through a scholarship.
If you don't have the budget to buy a pega yourself, consider starting with a scholarship, as the latter case is virtually free to get started. (Details will be described later)
How to make money with Pegaxy ① "Win the race"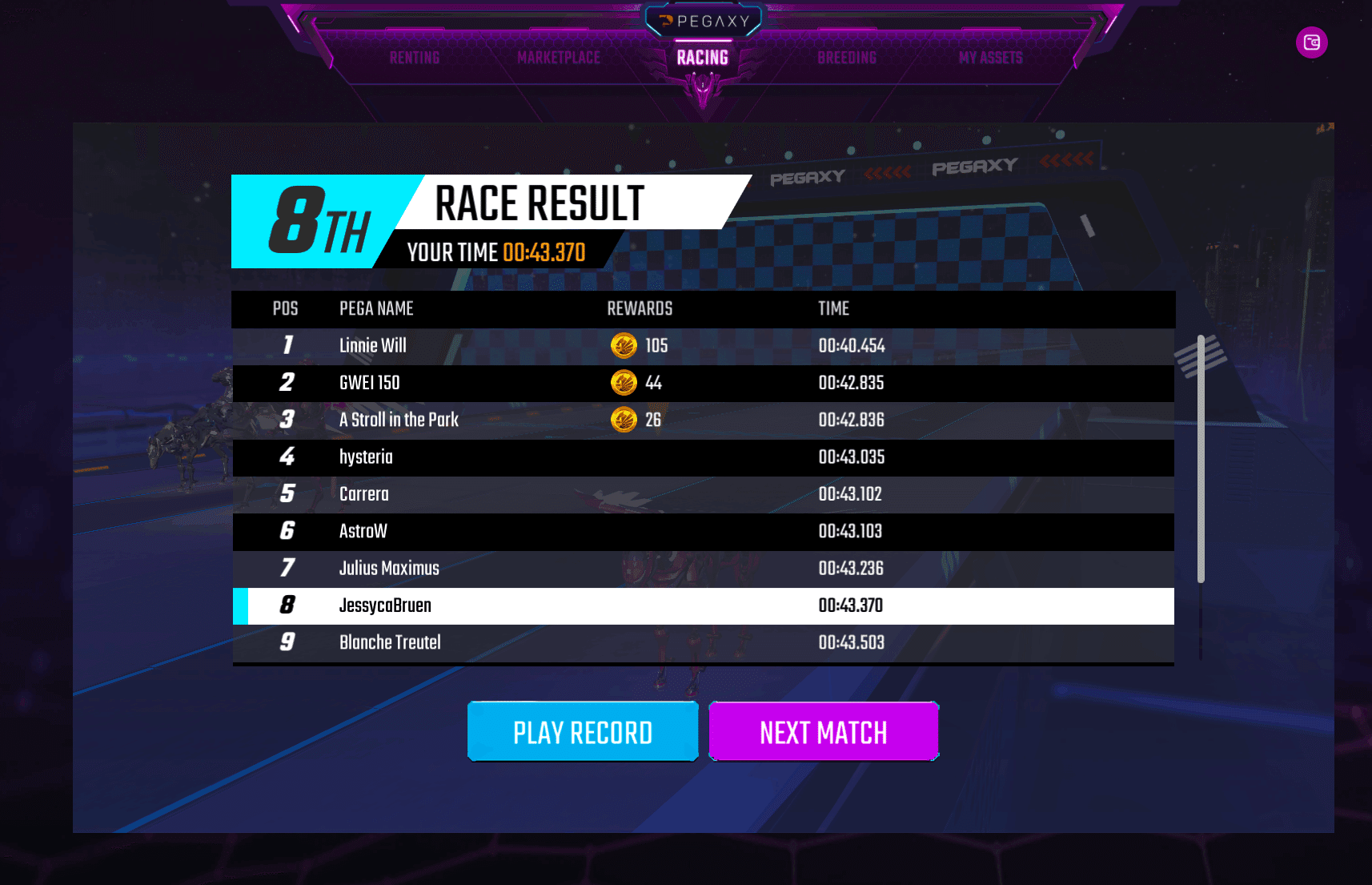 Pegaxy can get the utility token VIS (Vigorus) by finishing in the top 3 in the race.
1st place: 105VIS, 2nd place: 44VIS, 3rd place: 26VIS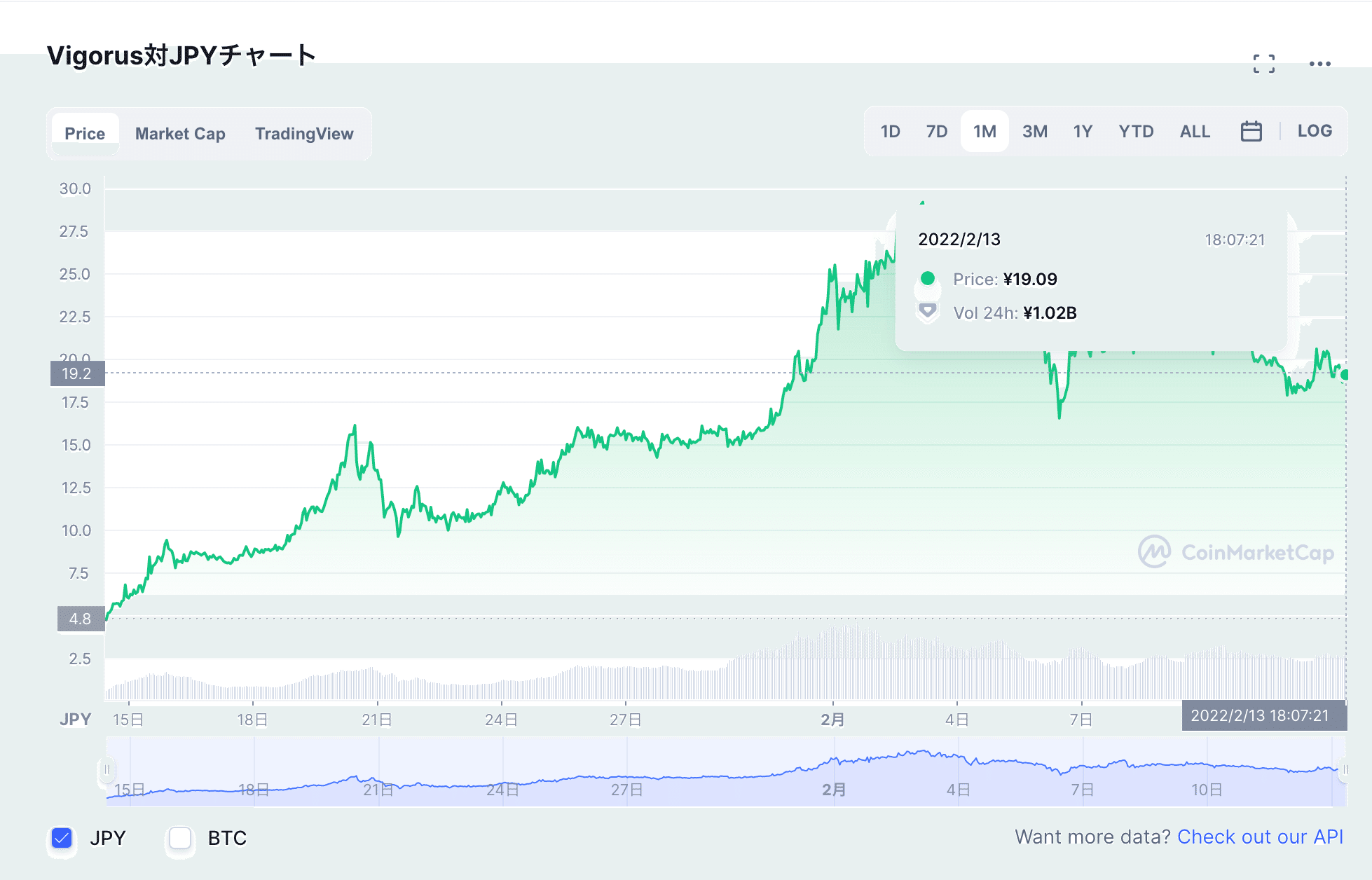 If you earn 1VIS = 20 yen and an average of 250VIS per day, you will earn 5,000 yen a day, so your monthly income will be 150,000 yen.
Since the purchase price of Pega as of the 13th is at least about 200,000 yen, it is calculated that the resources can be recovered in 40 days.
(The payback period varies depending on the VIS price and the price of the pega. Please consider it as a simulation "at this point".)
By combining bleeds and scholarships here, you can monetize more quickly.
How to make money with Pegaxy ② "Lending Pega"
There is a way to make money by renting out your own pega (or borrowing someone's own pega).
Fixed rental
Profit share
Direct rental
There are three.
Fixed rental is a method of getting PGX as a consideration by renting a pega after deciding the number of days to rent it. (Example: 100PGX in 2 days)
Profit share is a so-called "scholarship" system.
According to a predetermined rental profit distribution (eg Scalar 10 %、マネージャー90% etc.), the profits won in the race will be automatically distributed.
Unlike the above two, which disclose information to the marketplace, direct rental is a method of renting a pega to a fixed scalar by directly specifying the wallet address.
This is a function for guilds and for managers who have a fixed scalar who is friendly with Axie Infinity etc.
Pegaxy's rental system is all automatic payment, so it is characterized by no cost for accounting calculation and payment work .
How to make money with Pegaxy ③ "Bleed and sell Pega"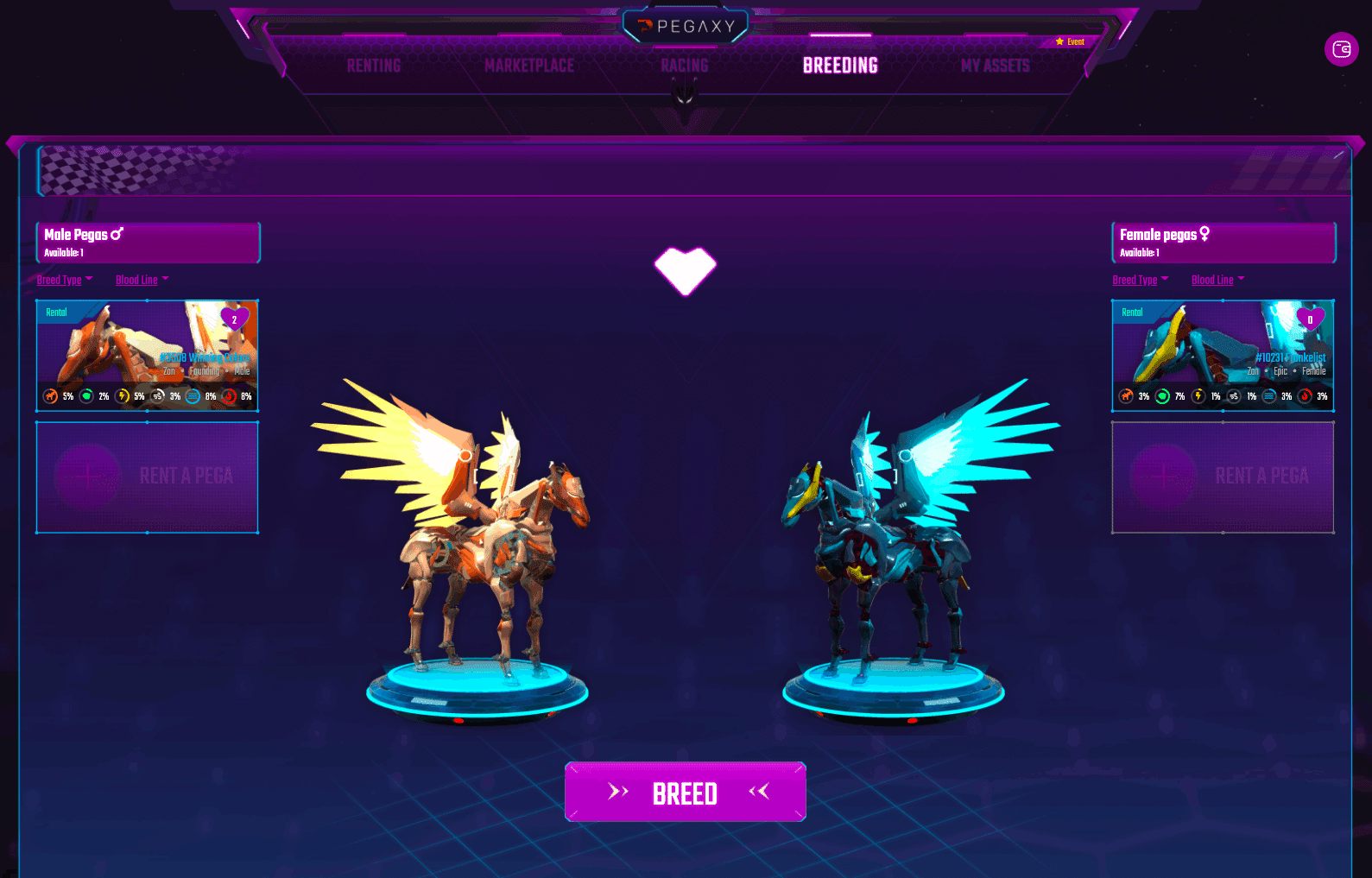 Pega can give birth to a baby by multiplying males and females. (Called bleed)
When bleeding, we use VIS and PGX as an expense.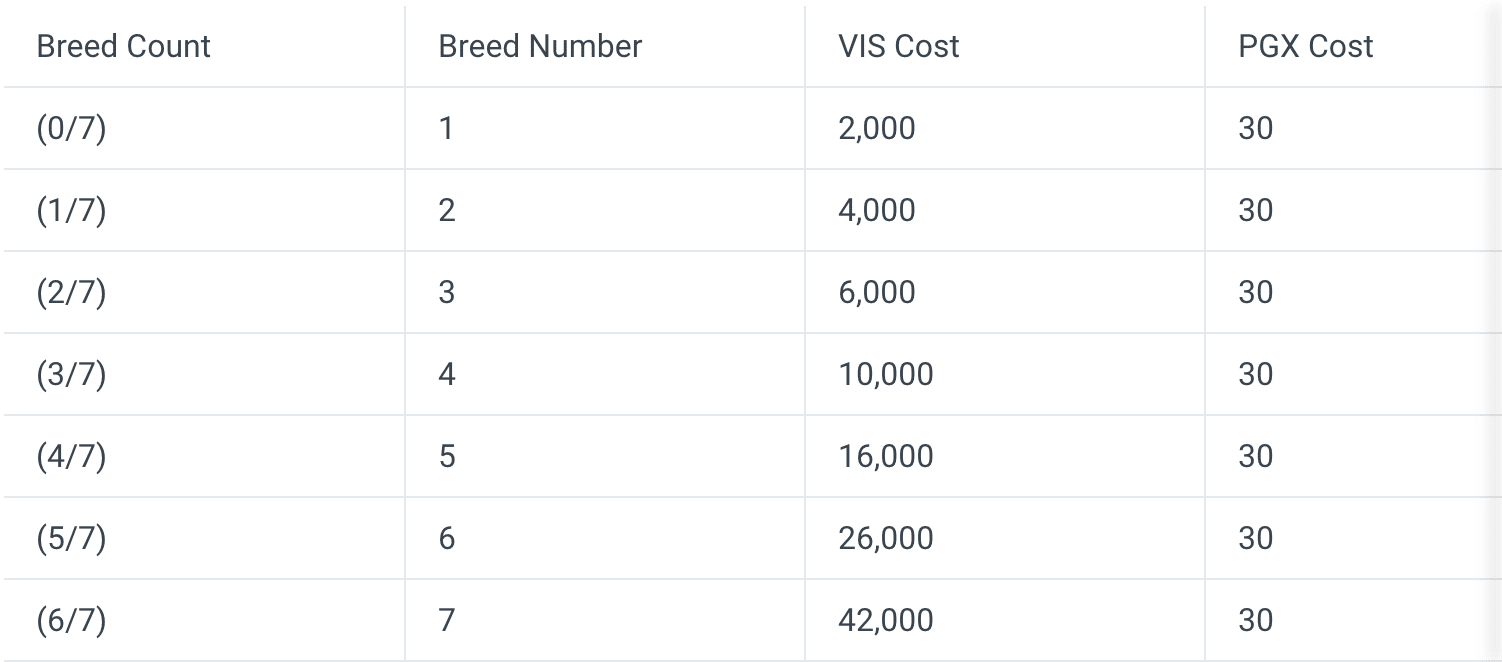 Pega can be used for bleeding up to 7 times per unit. The cost increases with each bleed.
Newborn babies can be raced or rented after a few days.
Bleed Pega
Lend to Scalar for a few days to earn VIS
Repeat bleeding and rental
Sell to the market
It is efficient to use this method of operation.
Relationship between Pega ステータス and winning percentage
How is Pega's ability determined?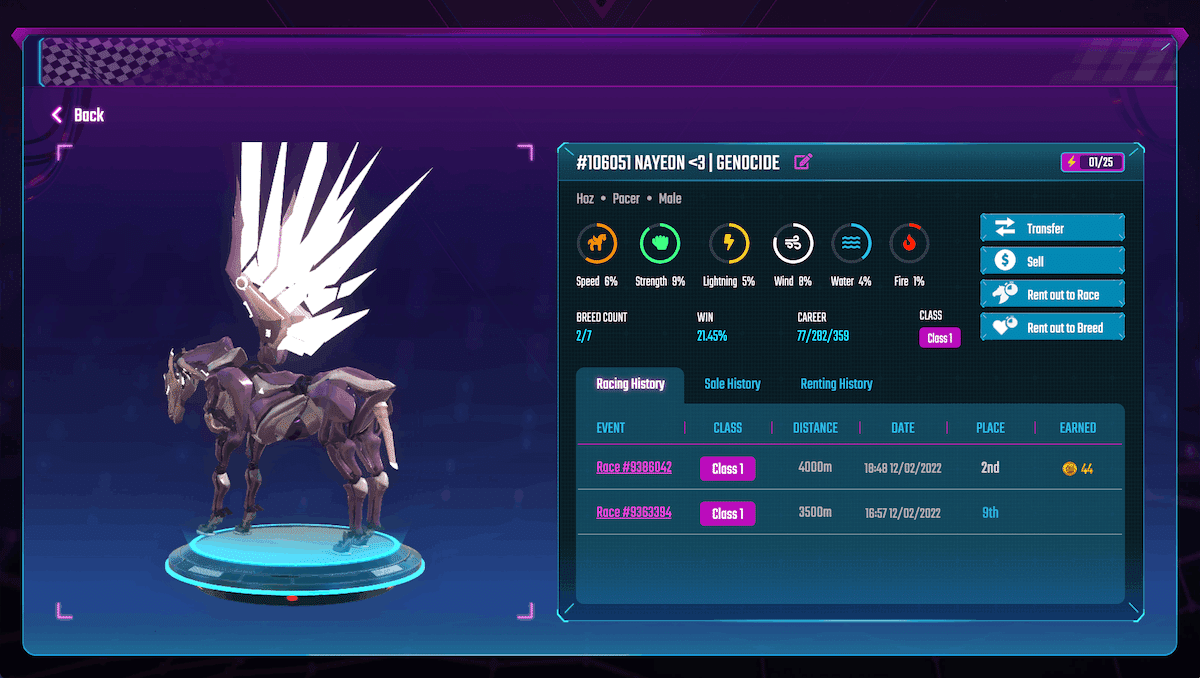 Pega's ステータス is divided into several parts.
Pedigree: Pega type
Variety: Pega's rarity
Gender: Male or female
ステータス : Ability correction value
Bleed count: how many times you bleed
Win rate: Probability of winning in 3rd place in the race
CARRER: Displayed by the number of wins / defeats / total number of races
With the pega in the image above
Pedigree: Hoz
Rarity: Pacer
Gender: Male
ステータス
Speed: 6 %、Strength:9%
Lightning: 5 %、Wind:8% , Water: 4 %、Fire:1%
Bleed count: 2/7
Win rate: 21.45%
CARRER: 77 wins / 282 losses / 359 battles
It has become.
https://www.pegaxy.tech/inspector/
Also, if you enter the Pega ID on the ↑ site, it will be displayed in a visually easy-to-understand manner, so it is recommended.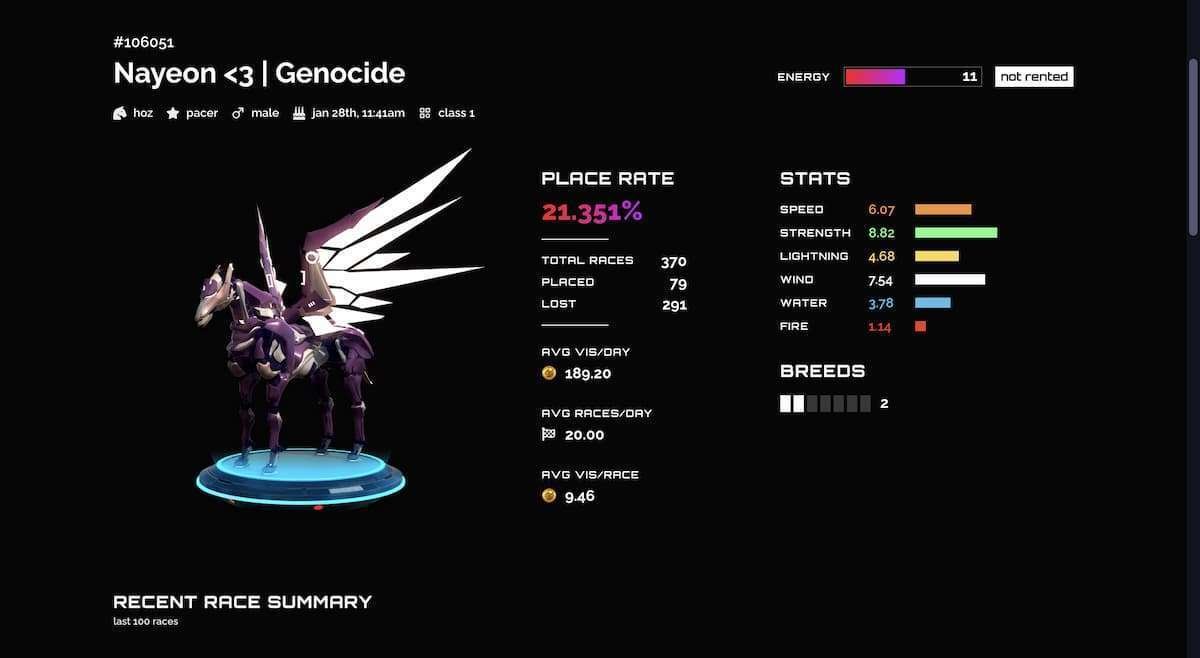 In addition to displaying the ステータス in detail to the decimal point,
・ Average VIS earned in one day
・ Number of races per day
・ Acquisition VIS per race
Etc. are displayed in an easy-to-understand manner.
It will also be helpful when buying a new pega.
There is almost no difference in winning percentage depending on 能力値 score "for now"
These published ステータス are said to have not affected the winning percentage of the race so far .
The base ステータス are hidden (so that they can be changed throughout development), and the published ステータス are the percentage of the ステータス bonus due to the racing environment. (So it is displayed in%)
* Information source: https://www.youtube.com/watch?v=ry5iouw11ew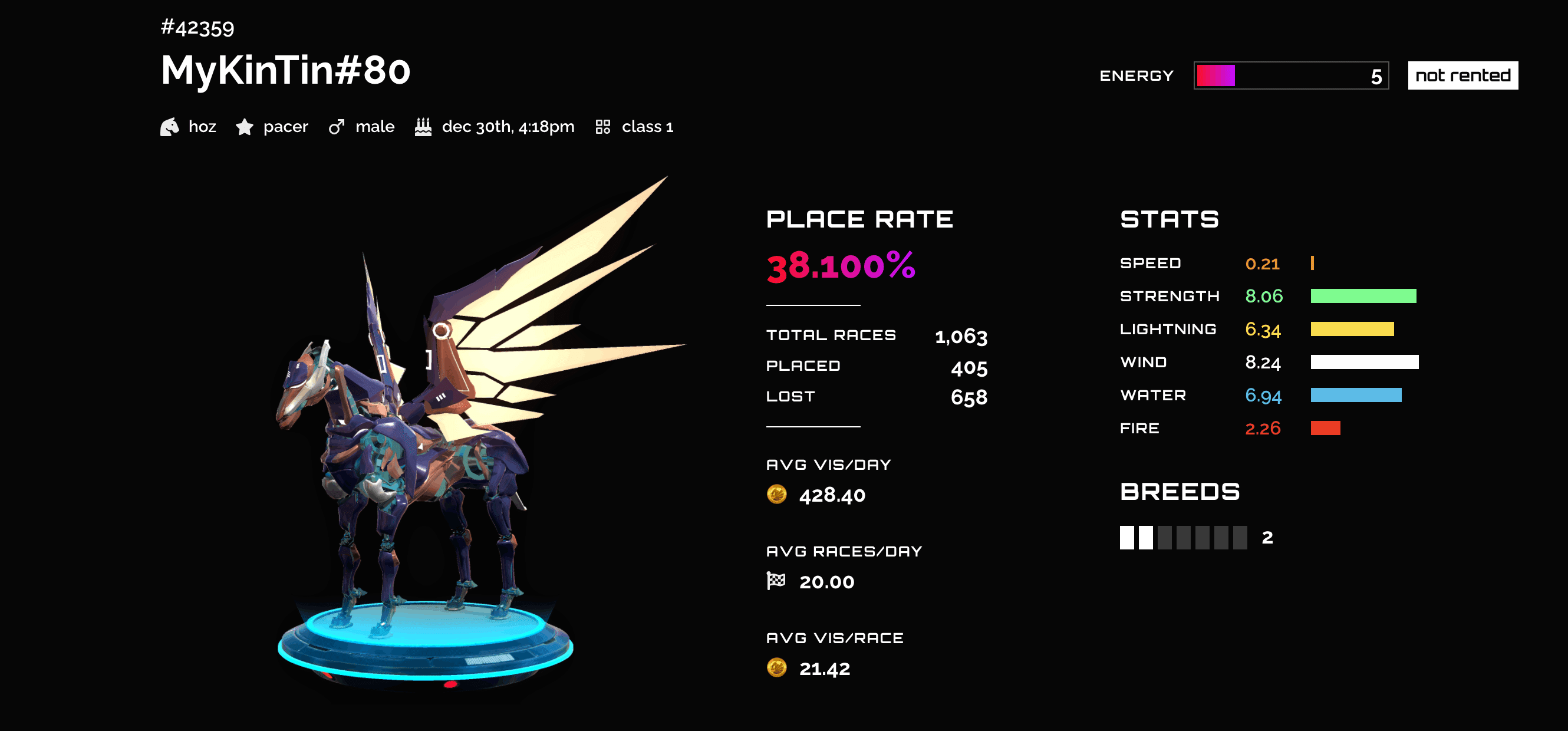 In the future, it is said that the winning percentage will change depending on the skill of the player, the ステータス of the 属性 and the compatibility in the race.
Pegaxy's gameplay will shift from auto racers to more traditional and manual skill-based games. You will have to manually manipulate the pega during the race, giving experienced players the opportunity to perform better.

From the white paper
Currently, Pega with a good winning percentage = Pega that is easier to earn, and horses with a good winning percentage tend to sell well .
However, this is just a matter of probability,
Even with a high winning percentage of Pega, there is a possibility that it will go down after you buy it.
Even if the winning percentage is low, there is a possibility that it will go up after you buy it.
It seems that it cannot always be said that a pega with a low winning percentage is a bad pega.
What is prohibited by Pegaxy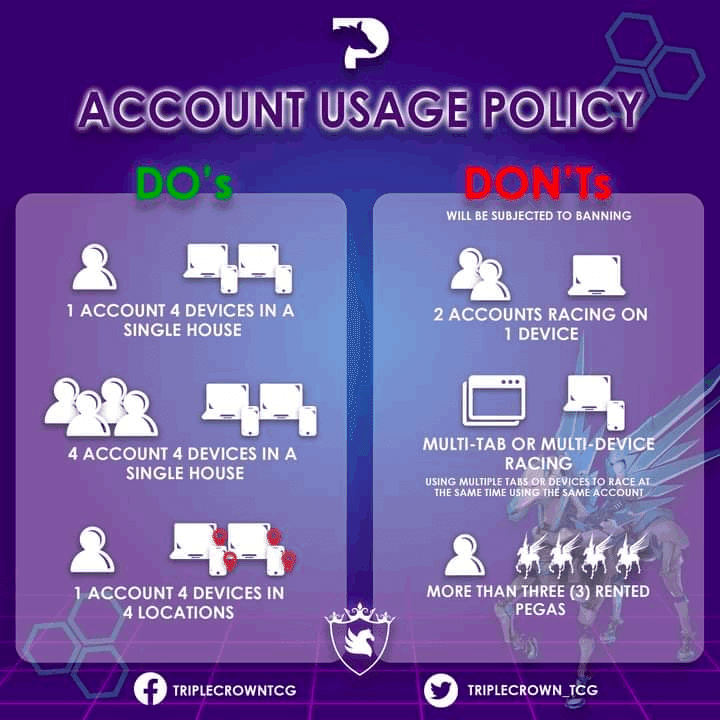 In addition, the following are prohibited in Pegaxy.
Operating multiple accounts on a fixed terminal
Running multiple races at the same time on multiple tabs
Running multiple races on multiple terminals at the same time
In principle, each person has an account.
Please note that for risk distribution, multiple account operations (so-called compounding) such as playing separately in MetaMask linked to multiple Google accounts are subject to BAN .
Also, whether you rent directly from the owner or from the marketplace, you can only rent up to 3 pega .
What you need to get started with Pegaxy
Here's what you need to get started with Pegaxy:
Opening of virtual currency exchanges in Japan and overseas
Installation of Metamask (= virtual currency wallet)
Connecting to a Polygon chain
Preparation of money (MATIC / USDT)
I will explain in order.
1. Opening of virtual currency exchanges in Japan and overseas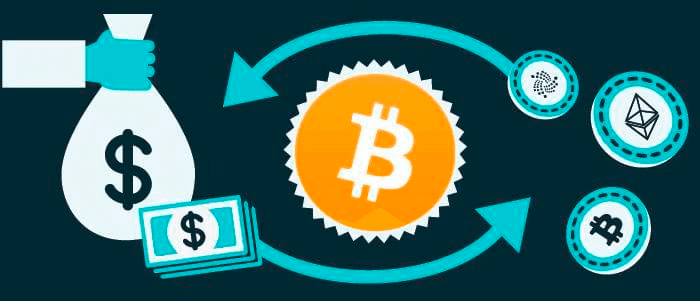 Opening an account on a domestic exchange
GMO Coin or BITPOINT is recommended for Japanese cryptocurrency exchanges.
This is because there is no fee to monetize the earned virtual currency into Japanese yen.
Please refer to this article for how to open a BITPOINT account. (We are running an account opening campaign until the end of March)
Please note that DMM Bitcoin can no longer send money to BINANCE.
Opening an account on an overseas exchange
BINANCE is recommended for overseas cryptocurrency exchanges.
Of course, the reason why I recommend this is because the fee is cheap, but it will be used for various NFT games in the future, so there is no loss if you open it.
2. Create a MetaMask account
MetaMask is a virtual currency account that can be used with the extended functions of Internet browsers (Google Chrome, Firefox, etc.). ( Safari is not supported )
MetaMask is an essential item for playing NFT games, so if you haven't created it yet, take this opportunity to create it.
In addition, MetaMask has many counterfeits on the market, and if you install it by mistake, information will be omitted or you will be taken with the whole virtual currency.
Be sure to download it from the official page!
2-1. Add MetaMask to Chrome
【Chromeに追加】をクリック
When you move to the page, click [Add to Chrome] that appears in the upper right.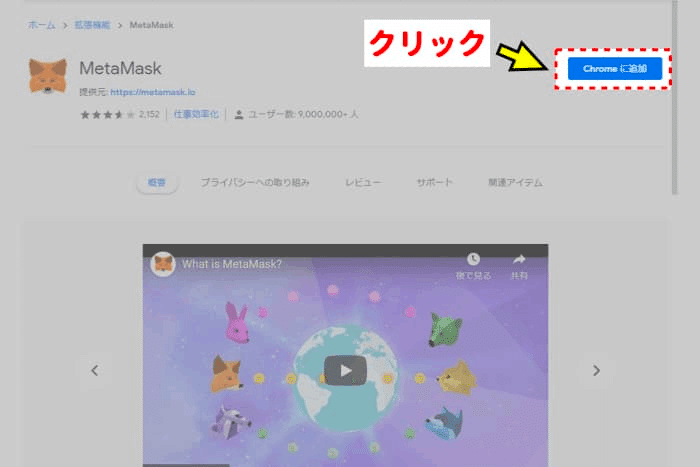 【開始】をクリック
When the addition is completed, the page will switch automatically and the account opening will start, so click [Start].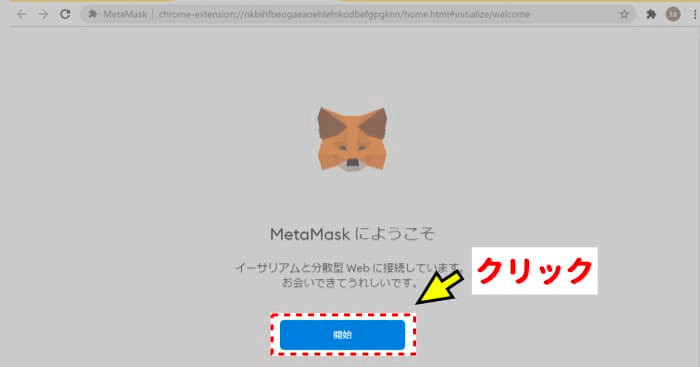 【ウォレットの作成】をクリック
The screen will switch, so click [Create Wallet] on the right side.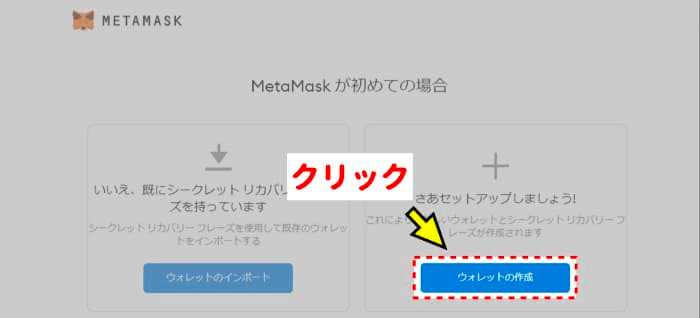 【同意します】をクリック
Then click [Agree] on the right side.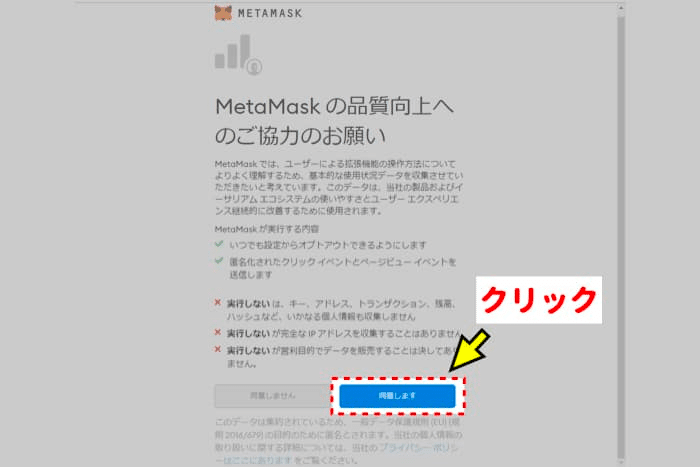 2-2. Set a MetaMask password
パスワードを設定する
Next, set a password for MetaMask login. The password part is important, so let's proceed with caution.
Enter the password you want to use (enter the same characters in the lower row), check [I have read and agreed to the terms of use], and click [Create].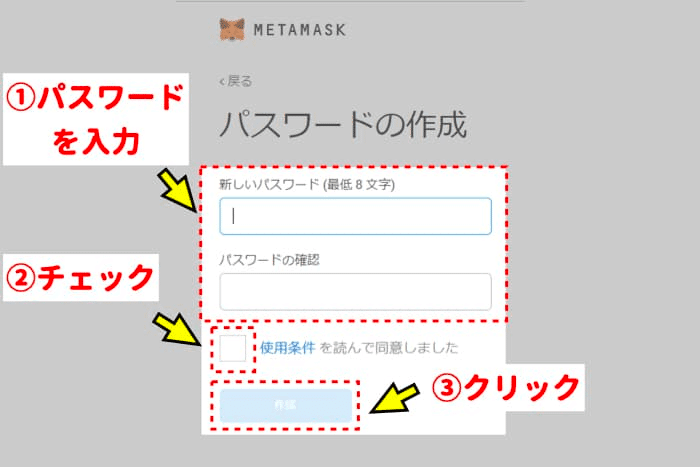 動画を確認
After that, an explanation video will appear that says, "Recovery phrases are important things that no one can tell."
After understanding the importance of passwords and recovery phrases, click [Next].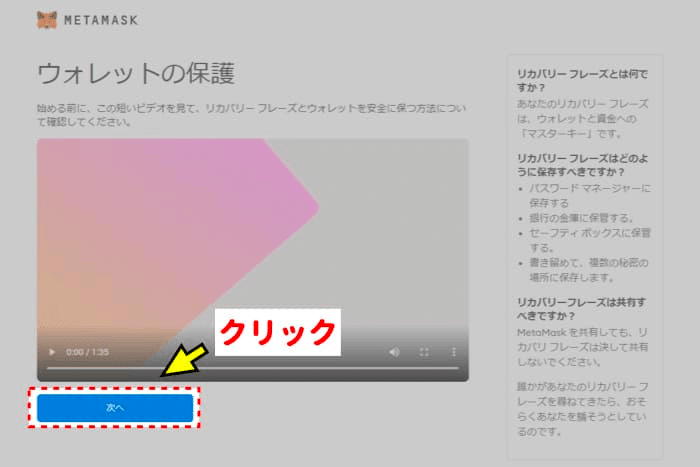 The recovery phrase is required at the following timings.
When you initialize the computer you are currently using
When logging in to MetaMask on a device other than the one that registered
If you forget it, you will never be able to log in again under any circumstances. (Not required for normal login.)
リカバリーフレーズを保存
After displaying the password and writing down the backup phrase (= recovery phrase), click [Next].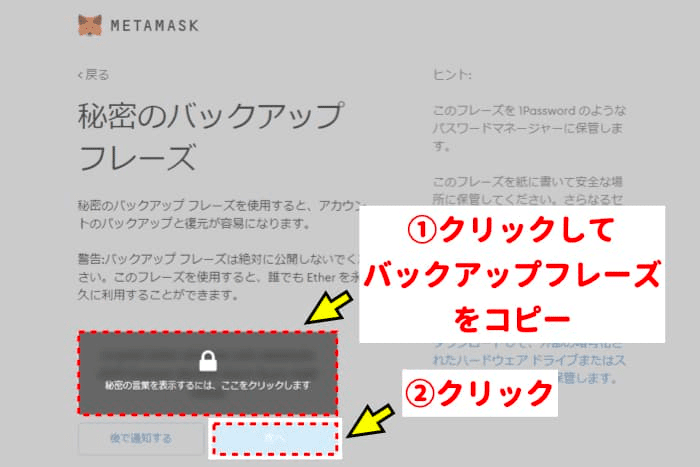 バックアップフレーズを配置
Next, arrange them in order while looking at the backup phrases you wrote down.
If there is no problem entering the backup phrase, proceed to the next.
At the end, there is a description about the importance of passwords, so let's check it.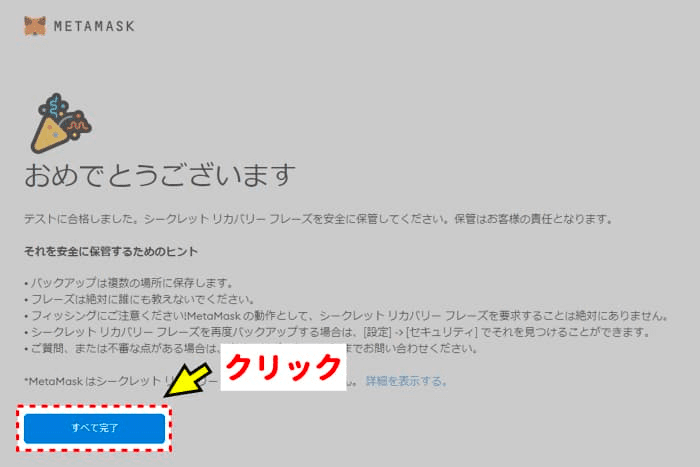 Click [Complete] to complete opening a MetaMask account.
2-3. Pin MetaMask
As you will be using MetaMask more often in the future , it is convenient to pin it so that you can operate it immediately.
Pinning can be set by the following procedure.
Click the extension button (puzzle mark) displayed in the upper right corner of the Chrome browser
Confirm that the item of MetaMask appears
Click the fixed button (pin mark) on the right side
Complete when the fixed button turns blue
[Caution! ] A scam to find out the recovery phrase
Anyone with a recovery phrase is free to move the funds in MetaMask.
As a result, there are many scams trying to find out the recovery phrase .
▼ Main fraudulent methods
Trying to claim the operation of MetaMask or create a site that looks exactly like it and have it filled out
Trying to find out the recovery phrase by pretending to be a support desk
I'm asked to tell me the recovery phrase because I will transfer it to my account in the airdrop campaign (free distribution of virtual currency)
We are aiming for recovery phrases by all means.
Never tell anyone whatever happens.
3. Preparation of Polygon chain and MATIC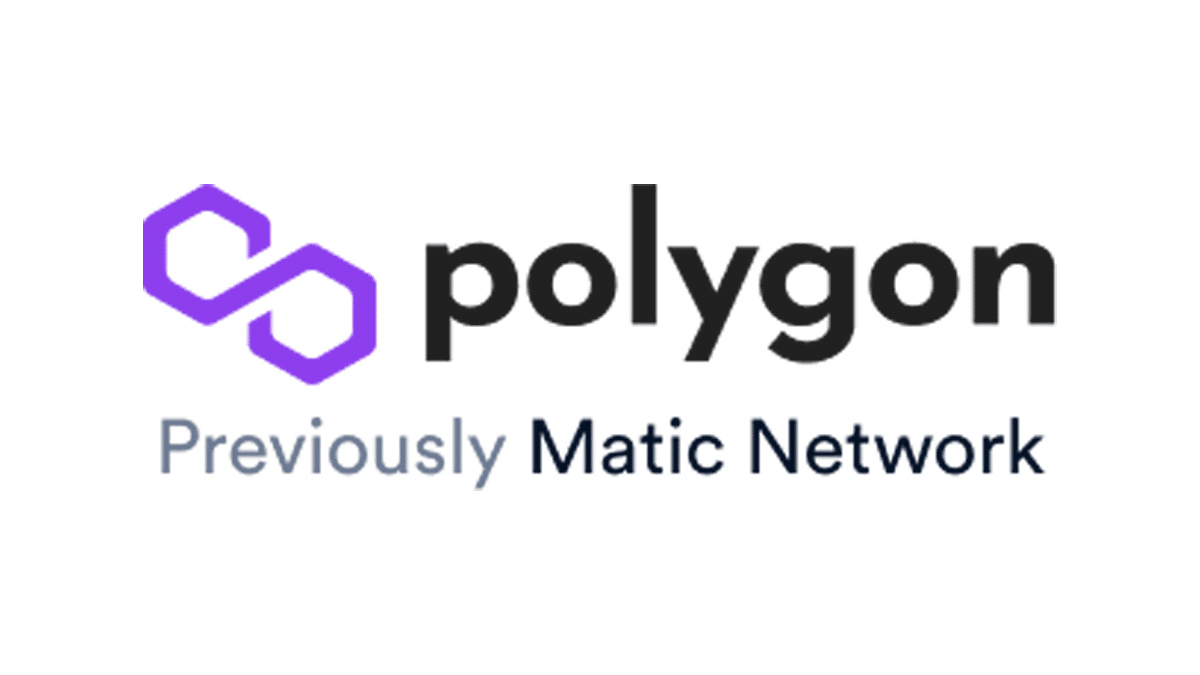 Pegaxy should be connected to the Polygon chain.
Virtual currencies have different networks that can be traded depending on the brand. If you do not trade correctly in the chain corresponding to that currency, the virtual currency will disappear . (For example, if you try to send Ethereum with a chain on Bitcoin, it will disappear because it is not supported on Bitcoin)
How to set the polygon chain
Open MetaMask and open the chain settings next to the icon in the upper right.
A black network selection screen will appear as shown below. Click "Add Network".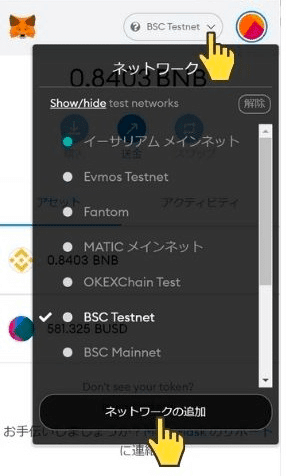 You will be taken to the network setting screen, so copy and paste the polygon chain settings.
Network name: Polygon
RPC URL: https://polygon-rpc.com/
Chain ID: 137
Symbol: MATIC
Block Explorer URL: https://polygonscan.com/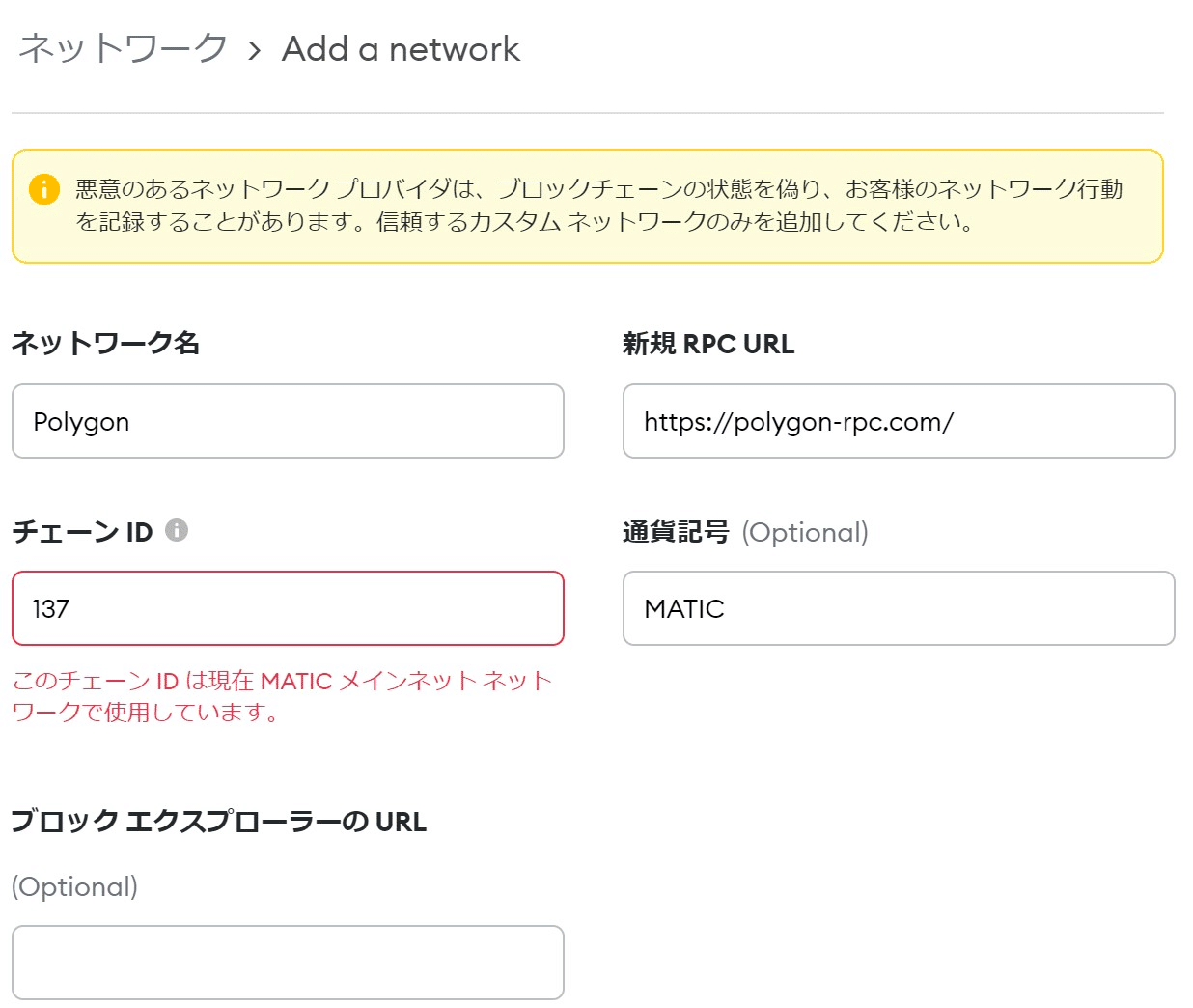 All you have to do is set and save.
4. How to prepare money (MATIC / USDT)
MATIC is a virtual currency that is required as a fee when playing and withdrawing Pegaxie. Must be purchased in advance before you can start playing.
The procedure for purchasing MATIC is as follows.
Remittance of XRP (Ripple) from domestic exchanges to Binance
Convert XRP (ripple) to MATIC in Binance
Send MATIC to MetaMask
Swap to USDT with MetaMask
4-1. Send XRP (Ripple) from domestic exchanges to Binance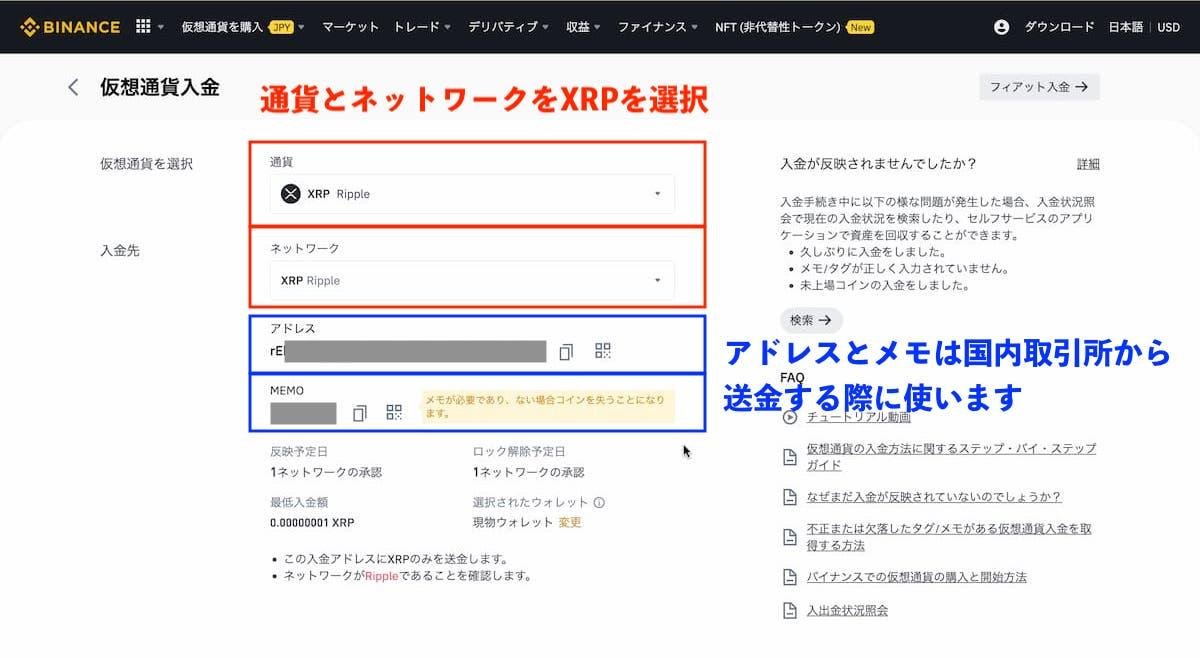 After logging in to Binance, select "Deposit" of XRP from the wallet menu , and it will be as shown in the above figure.
At this time, be sure to check "Is the currency and network set to XRP? ". If you make a mistake here, the XRP sent from the domestic exchange will be lost. (When sending money for the first time, it is safe to do a remittance test with a small amount)
Then copy the displayed address and MEMO part.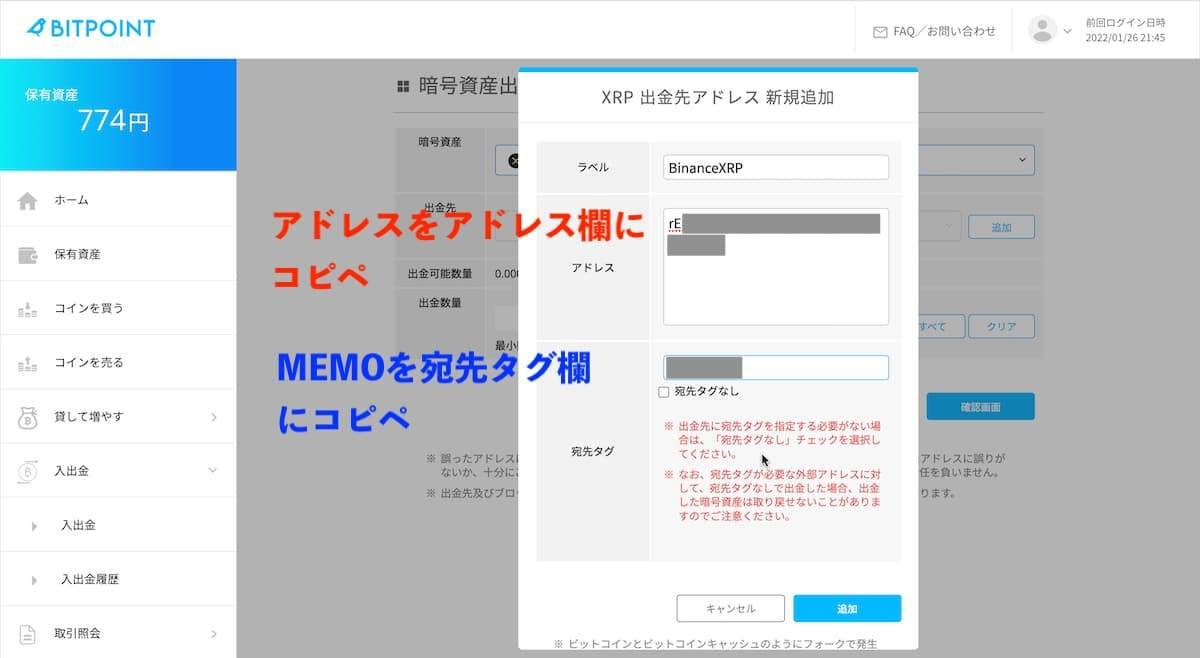 Next, select the "XRP" withdrawal menu on the domestic exchange.
Copy the address and MEMO number displayed in Binance to the withdrawal address and tag, respectively.
After that, we will perform two-step verification and complete the registration of BINANCE's XRP deposit address on the domestic exchange.
Go back to Binance and make sure you have deposited XRP. (It may take some time to deposit)
4-2. Convert XRP to MATIC
After confirming the deposit of XRP, move to the "Convert" page from the "Trade" menu.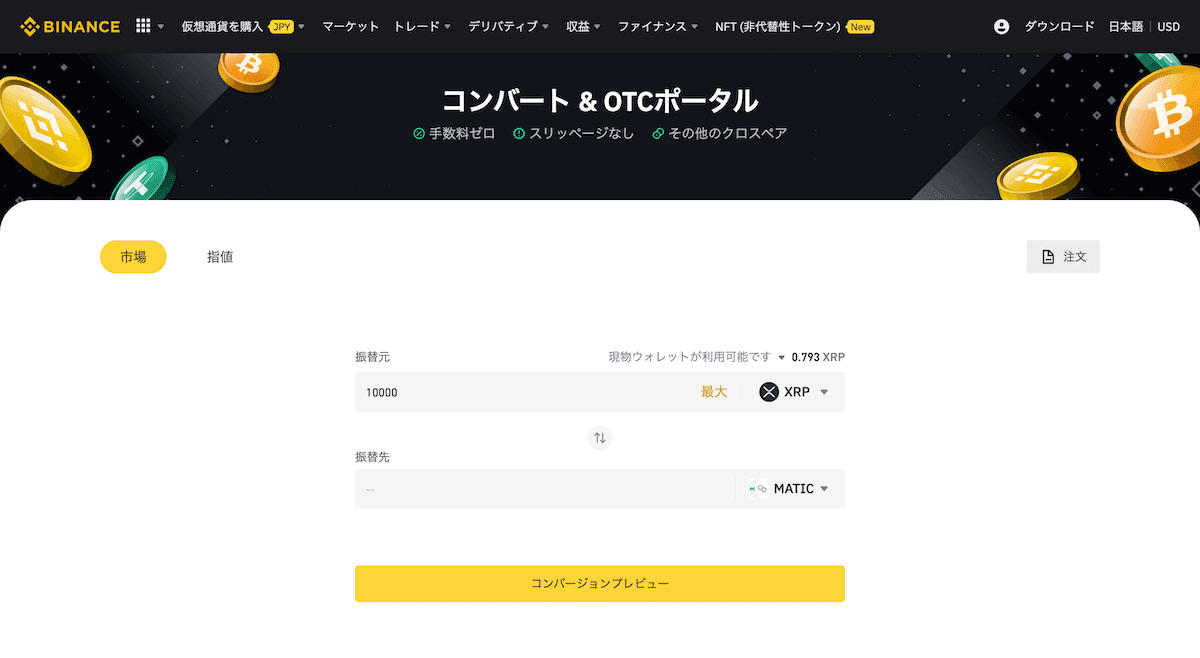 Select "MATIC" as the transfer destination.
After this, you will be charged a fee when you move to Metamask, so you need to purchase at least 1.2MATIC.
4-3. Send MATIC to MetaMask
Then send the purchased MATIC to Metamask.
From the wallet menu as before, this time select MATIC's "Withdrawal".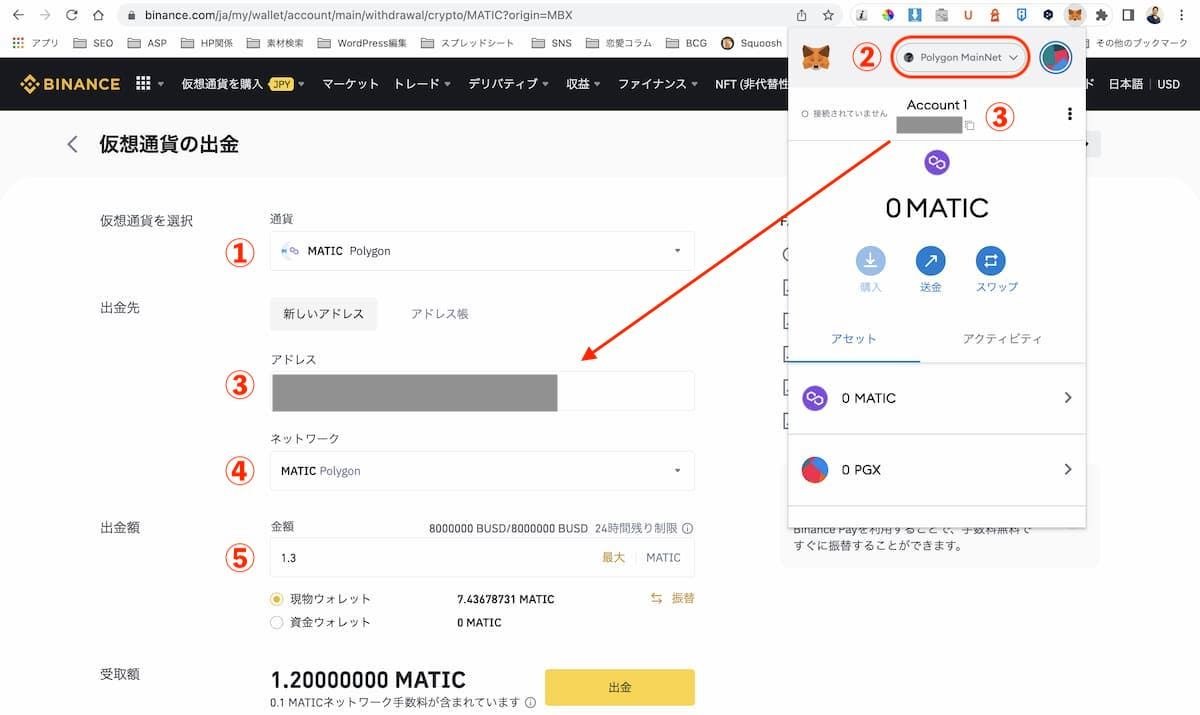 ① Currency: Select MATIC
② Network: Select MATIC (Polygon)
③ Copy and paste the MATIC address of MetaMask to the address
④ Select MATIC for the network
⑤ Enter the amount
You can send money with.
If you make a mistake in the network and address here, the MATIC you bought will be lost, so please be careful.
A confirmation pop-up will appear, so check everything, and if you accept it, you're done!
It should have been moved to MetaMask in about 10 minutes, so let's check it on Metamask.
If you are worried that it will not arrive easily, you can see the progress by looking at the transaction (transaction history) .

4-4. Swap to USDT when buying Pega
If you buy a pega, you can convert MATIC to USDT and the pega will change in the marketplace.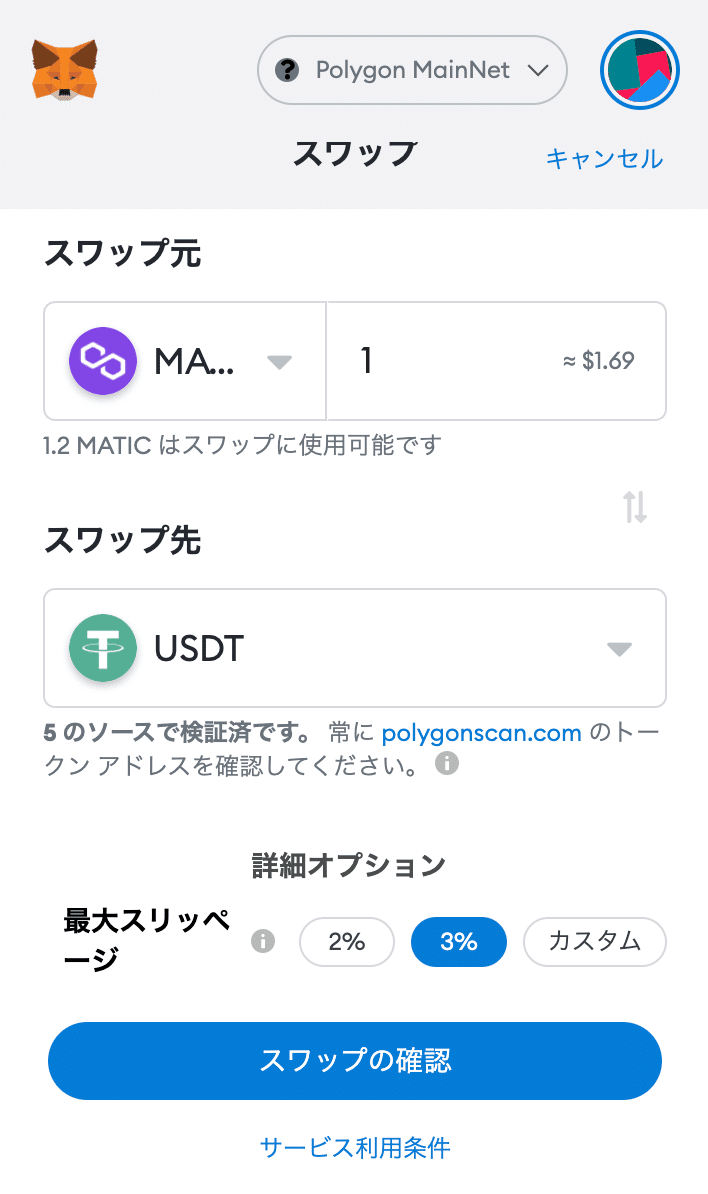 The lowest price for a single pega is 1500 USDT (1500 $ ≒ 200,000 yen), so if you don't have the budget, consider renting a scholarship.
Pegaxy preparation summary
Opening of virtual currency exchanges in Japan and overseas
Installation of Metamask (= virtual currency wallet)
Connecting to a Polygon chain
Preparation of money (MATIC / USDT)
The above is a list of preparations before starting Pegaxy.
Thank you for setting.